By Eric Rosane / ericr@chronline.com
Six-year-old Cody Nef, clad in a Hawaiian T-shirt and with his older brother's Lightning McQueen backpack, jumps and runs around his parents' living room in Toledo.
It's early in the morning on Wednesday and it appears he's just looking to blow off some early bird energy.
It's the second day of class for Wyatt and Jake Nef, Cody's brothers, who stand near the doorway watching their brother run around and recite numbers. Cody is really good at counting. The blonde-haired youngster proudly proclaims that he can count to 200.
"He's super smart. He does really well in school," said mother Janice Nef, who substitutes at the school district and is a stay-at-home mom.
Cody will start kindergarten classes next week. Though he already took kindergarten last year, his family is re-enrolling him to really allow him to have the most authentic kindergarten experience he can have.
"I feel like having him repeat kindergarten, it's going to be an advantage for him," she said, noting that kindergarten last year gave him a taste of what public school was like. "He'd be middle of the pack if he was to go on to first grade."
At the same time, Janice Nef said, Toledo's kindergarten class is the largest the district has ever seen, likely part of a larger national trend of parents withholding kids from entering public school last year due to the pandemic.
On Wednesday, as Cody bounced around, he showed everyone his collection of 30 or so hand-made masks the teachers at Toledo distributed last year to students. Her son's affinity toward masks does worry her, Janice Nef notes, but she feels students and staff at Toledo have handled the pandemic really well. She said she feels Toledo is a safe district to be at, and notes that they're teaching students strong values.
"The kids handled it, they're resilient. Now, do I want my kids wearing masks all day? No. But we're in interesting times nowadays," she said.
The Nef family isn't alone in their hope, excitement and concern for this upcoming school year. This week, most Lewis County students returned to the classroom, donning masks and following health and social distancing guidelines that remain in place.
Those mandates have been eased a bit since last school year, according to the Washington Office of Superintendent of Public Instruction (OSPI), with students and teachers now able to unmask while outside.
All schools are also now back and offering five days of in-person instruction, a substantial shift for some schools and a minimal one for others. Many districts are currently holding registration conferences with families of kindergarten students.
"I'm really not well-suited for online, but I got through it. It was tough, by far the hardest schooling I've done in my life by far," said Wyatt Nef, 17, a 4.0 student who works to balance sports and involvement in his church. "I love talking to the teachers."
This year, the elder Nef is taking civics, physics, weightlifting and a teacher's assistant class. He's largely fulfilled his graduation requirements and is focusing on enjoying his senior year.
Wyatt Nef said being back in the classroom has helped him and his peers cherish the time they spend together. In his Lightning McQueen backpack, which he and his classmates bought as a joke, he carries just a few supplies — a spiral notebook, a pencil and an eraser.
"I think everyone is going to benefit from going back to school," he said.
Marina Smith, also 17 and a Toledo senior, said she's definitely excited to get back in the classroom.
"It's not the best, since we have to social distance and wear masks, but it's better than being at home alone and on a screen … I'm really excited to be back with my friends," said Smith, who notes her only worry would be if the district shut down in-person learning again.
School starts later this week and early next for schools in the Twin Cities, with Centralia starting Thursday and Chehalis starting Tuesday.
"Very honestly, I love the start of school. It is the most wonderful time of school," said Centralia Superintendent Lisa Grant, noting administrators and staff are going to make this year as positive as they can regardless of the stressors. "There's tremendous excitement, and so we're excited and anxious for it to get started."
Enrollment at Centralia is rebounding from pandemic lows, she said, and the district is looking at kindergarten enrollment numbers "very closely" to see if it will have an increase from last year.
While most students will return face-to-face later this week, about 150 K-12 students in the district have opted to remain in full-time online instruction, Grant said. Most of those are students who found success with online learning.
The state's October deadline to have all school workers vaccinated has brought up some concerns among staff, Grant said, but the district is working to address those.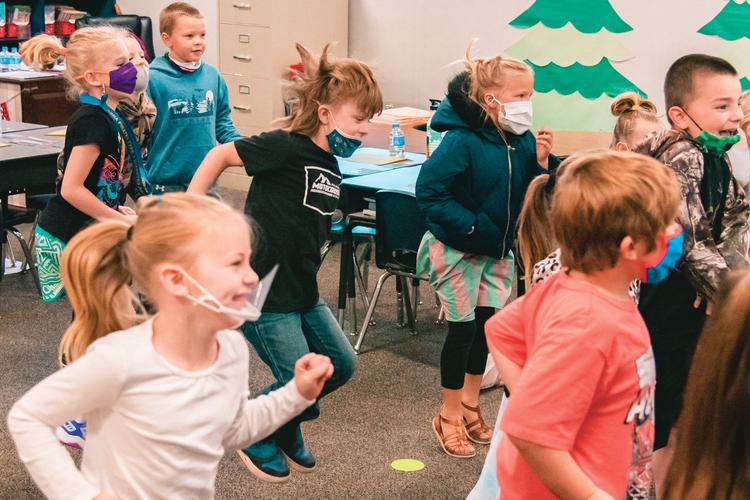 Andy Lynch, spokesman for the Chehalis School District, said Chehalis schools are returning for the first time since the start of the pandemic to full-time, in-person instruction, which is exciting.
"We're thrilled. Everybody wants to be back and it was great having them back four days a week last year … It'll be better having them back every day," Lynch said. "(There's a) buzz around here. We just cannot wait."
Napavine schools had their first day back on Tuesday and teachers are feeling the relief of interacting with students in the classroom and not over a computer screen.
Sali Stratton, a fifth grade teacher at Napavine Elementary School, said students this young often had difficulties with their computers during remote learning. With everyone back in person now, she said technology issues that would normally take an hour to resolve over the internet now take only a few minutes in person.
Liz Meldrum, dean of students at Napavine Elementary, said most families are excited to get back in the classroom, though there were some nerves as first-time parents and guardians dropped off their kids.
On Tuesday, teachers focused on social and emotional learning. One example a teacher used for their students was the idea of filling buckets: Everyone has an emotional bucket that they can use to help others feel good by filling each other's buckets with kindness. You can also tip someone's bucket over, too, which wouldn't be polite or helpful.
"It is extremely important they are in our building and making connections with other people. So many people were so isolated for so long," Meldrum said, adding later: "We're just excited to be able to go back to as normal as we can be ... I think everybody has a different perspective and little more appreciation for normalcy than we used to."
Napavine had 366 students enrolled as of this week. Meldrum said that number is on the lower side, especially since they graduated such a large class of sixth graders last year, but that blow has been softened by the fact that they're enrolling a lot of families new to the area.
Adna also had its first day of school on Tuesday. The Chronicle stopped by Adna Elementary School on Wednesday.
Principal Lisa Dallas, who's entering her 21st year leading the school, said enrollment this year so far is rather high with 250 students currently enrolled — about 15 more than what the district ended the school year with.
The first couple days were mostly about reviewing proper hygiene and face mask wearing with the students. Ms. Humphrey's first grade class, however, seemed to be doing something much more fun.
On Wednesday morning, a flurry of masked first graders took a "brain break" to get their brains pumping through exercise. They were watching a video of a cartoon character on the screen jumping up and down, and following along — giggles and shouts of joy followed.
Marcy Scheuber, Napavine Elementary's Science, Technology, Engineering and Math (STEM) teacher, said it's been a big improvement having the students back in the classroom and able to do the hands-on instructions that their program thrives in.
"Anytime you have kids do hands-on learning, that's good," she said.
Adna was one of only a handful of districts that was able to bring kids back to class full-time by the end of last school year. Because of that, "learning loss," or the interrupted or stalled process of students retaining knowledge, was minimal. About 87% of the school's students met math and reading standards, Dallas said, which she attributed largely to in-person learning.
"Their commitment level and professionalism, they're incredible," Adna Superintendent Thad Nelson said of his staff, administrators and teachers.
While Adna hasn't seen an influx in kindergarten enrollment, Dallas said they're still determining how much in-class time many of the newer students have seen.
She's worried there may be some learning loss, since one student, a first grader, said recently that his first day back to school was his first time on a physical school campus.
"All the new students here, that's a whole new ball game," she said.