U.S. President Donald Trump met with the video game industry Thursday to raise concerns over violence in games and whether it can lead to violent behaviour in kids, a decades-old debate in which researchers have so far failed to find a link.
Searching for ways to respond in the wake of a Valentine's Day massacre in which 17 students and staff lost their lives after a 19-year-old former student opened fire at a Florida high school, Trump met with video game industry leaders and "experts on violence to discuss violent video game exposure and its impact on our children."
"To date, the administration has led many discussions about how to prevent violent behaviour in our schools, with a focus on stopping those intent on committing mass murder," reads a White House statement. "The group spoke with the president about the effect that violent video games have on our youth, especially young males.
Story continues below advertisement
"The president acknowledged some studies have indicated there is a correlation between video game violence and real violence," the White House said.
WATCH: Trump to meet with video game execs to address violence, school safety0:33Trump to meet with video game execs to address violence, school safetyTrump to meet with video game execs to address violence, school safety – Mar 7, 2018
The White House posted a minute-and-a-half video to YouTube dubbed "Violence in Video Games," showing clips from first-person shooter games such as Call of Duty. Trump has focused on video games as he seeks solutions to deal with the scourge of guns, even though years of studies have failed to find a connection between games and gun violence.
READ MORE: L.A. man arrested after video-game dispute leads to deadly 'swatting' incident in Kansas
Psychologist and Stetson University professor Christopher Ferguson, who has studied violence in video games for well over 10 years, called Thursday's White House meeting "puzzling."
"The most striking thing for a lot of us who do video game violence research is that in the meeting there were no actual scholars, nobody there that does research in this area," Ferguson told Global News. "The people in the room who were trying to be educational about the research ended up being the industry. It's usually the other way around.
Story continues below advertisement
"The crucial issue is there's no evidence whatsoever at this point for the need to have a conversation about violence in video games after mass shootings," Ferguson said.
In 2013, after the shooting at Sandy Hook elementary school in Newtown, Conn., former vice-president Joe Biden held three days of wide-ranging talks on gun violence prevention, including a meeting with video game industry executives. After the 2013 meetings wrapped up, the White House called for research on the effect of media and video games on gun violence, but nothing substantial came out of that.
WATCH: Trump worried 'violent' content his son watches leads to gun crimes0:31Trump worried 'violent' content his son watches leads to gun crimesTrump worried 'violent' content his son watches leads to gun crimes – Feb 28, 2018
"We now know without a doubt that violent video games do not contribute to mass shootings or other serious acts of violence in society," Ferguson said.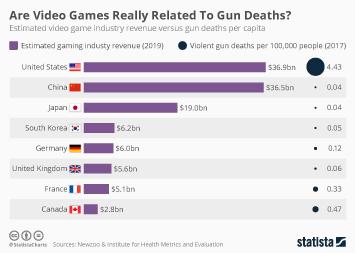 Following Thursday's meeting, the Entertainment Software Association released a statement saying it had brought up "the numerous scientific studies establishing that there is no connection between video games and violence, First Amendment protection of video games, and how our industry's rating system effectively helps parents make informed entertainment choices."
Story continues below advertisement
A small study from 2006 by Indiana University suggested teenagers who played violent video games showed higher levels of emotional arousal, but less activity in the parts of the brain associated with the ability to plan, control and direct thoughts and behaviour.
READ MORE: Video game addiction to be named a mental health disorder
"Our study suggests that playing a certain type of violent video game may have different short-term effects on brain function than playing a nonviolent — but exciting — game," said Vincent Mathews, M.D., professor of radiology at Indiana University School of Medicine in a statement at the time.
The university tasked 44 adolescents to play either a violent or nonviolent game for 30 minutes.
WATCH: Education through the Assassin's Creed video game franchise4:41Education through the Assassin's Creed video game franchiseEducation through the Assassin's Creed video game franchise – Mar 6, 2018
Ferguson explained that the violent video game theory crops up every five or six years, especially after mass shooting, such as Columbine High School massacre in 1999, and the Virginia Tech shooting in 2007. But the "debate" has been around since the mid to late 1970s, according to the psychologist, stemming from a game called Death Race. In the early 1980s, the U.S. surgeon general spoke out about violence in video games.
Story continues below advertisement
"C. Everett Koop linked video games to family violence," Ferguson said. "And he was really talking about Pac-Man and Space Invaders."
Following an outcry over violent games, such as 1992's Mortal Kombat, the Entertainment Software Ratings Board was established in 1994 by the Entertainment Software Association to give each game a rating based on five categories ranging from "E" for "Everyone" to "Adults Only" for those 18 and older.
WATCH: Audio of Florida school shooting 911 calls released2:31Audio of Florida school shooting 911 calls releasedAudio of Florida school shooting 911 calls released – Mar 8, 2018
In 2011, the Supreme Court rejected a California law banning the sale of violent video games to children.
As for Thursday's meeting between the president and the gaming industry?
"If the goal is to actually reduce gun violence in the U.S., it was an utter waste of time," Ferguson said.
–with files from the Associated Press
© 2018 Global News, a division of Corus Entertainment Inc.