As social distancing guidelines close public places like gyms, some people are finding it hard to stay active. Luckily, there are video games that are for more than just fun. Some games encourage exercise and fitness from the comfort and safety of your home.
While most people don't have the room for heavy exercise equipment or machines, these games don't require huge amounts of space, and they are easy to access at anytime. Additionally, many of them can be enjoyed with multiple people at the same time, so they can double as entertainment for you and anyone else in your home.
Related: Fun Online Browser Games to Play with Family & Friends
Just Dance 2020
Available on PlayStation 4, Xbox One, Nintendo Wii, Nintendo Switch and Google Stadia
If you're looking for a game that'll help you work up a sweat and feel the burn while also teaching you some new dance moves, look no further. Just Dance games have always provided a fun way to get some cardiovascular exercise in. Using either motion controllers or your smartphone, the game detects whether or not players are mirroring the movements onscreen and scores them accordingly.
The most recent release, Just Dance 2020, includes over 40 popular songs including "Old Town Road (Remix)" by Lil Nas X Ft. Billy Ray Cyrus and "God Is A Woman" by Ariana Grande. With the Just Dance Unlimited subscription service, you can access of 200 songs for $24.99 a year. If you're not sure if the service is for you, purchasing the game includes a free month of Unlimited.
Just Dance 2020 has been said to be able to help players burn around 200 calories in just 30 minutes, making it a great workout. The game is also great to play with families, as it can support up to four players at a time locally, and it even has a Kids Mode featuring child friendly songs and choreography.
Related: The Best Multiplayer Games You May Have Missed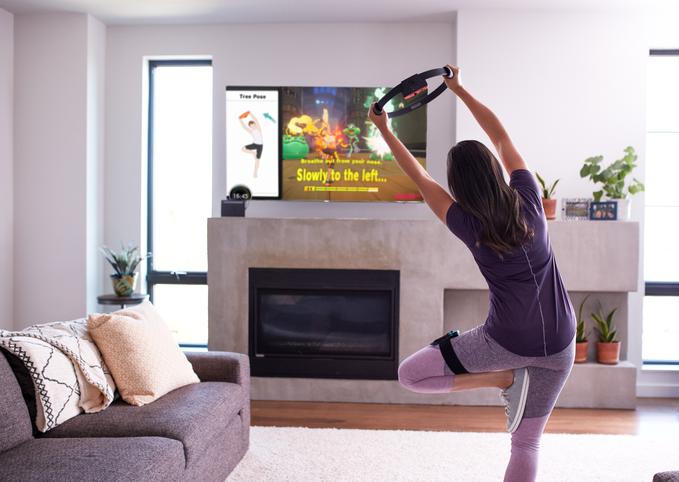 Ring Fit Adventure
Available on Nintendo Switch
Another fun and physically demanding video game is Ring Fit Adventure, a fitness based RPG that'll keep the player moving. Whether you're jogging in place to traverse a grassy plain, battling enemies with shoulder presses or refilling your health meter with yoga poses, Ring Fit Adventure provides a full body workout that uses the Ring-Con and Leg Strap accessories to track the player's movements. Players of the game have estimated that they've burned around 60 to 100 calories in the first 15 minutes or so of the game, and more exercises can be unlocked through gameplay.
In Adventure mode, players will have to defeat enemies in fitness-based battles and traverse more than 100 levels in over 20 worlds. In this mode, Ring Fit Adventure encourages players to work out different parts of their body by having certain enemies be weak to certain types of attack. The game also features additional mini-games (including a new Rhythm Mode) and customizable workout routines that players can use for a more traditional experience. It even features a way to check the your heart rate using the Joy-Con, so you can tell if you're getting a good workout in.
The game only supports one player, but while only one person can use the Ring-Con and Leg Strap, others can follow along with the workouts on the screen. Unfortunately, this game is currently pretty hard to come by (it's exclusively a physical release due to the accessories it requires), but if you have or manage to obtain a copy, it provides months worth of workouts and is a great investment for fitness.
Related: Super Smash Bros Ultimate's Latest Spirits Are From... Ring Fit Adventure?
Beat Saber
Available on PC compatible VR headsets, PlayStation VR and Oculus Rift.
Virtual reality provides a fully immersive experience, and Beat Saber takes full advantage of this. While it does require a moderate amount of space and specific equipment to use, this is a fun game that (like the others) tracks the player's movements. Beat Saber is a VR rhythm game that forces players to physically duck to avoid hitting their head on walls and dodge other obstacles while using different colored lightsabers to slice note blocks in certain directions.
The VR Health Institute has tested Beat Saber and states that it burns between six and eight calories a minute, a rate that is comparable to physical activities like tennis. As with other VR games, players should take caution, as they have been known to cause fits of nausea and motion sickness at times. But if you're a fan of VR gaming, Beat Saber is definitely a fun way to get a good workout.
KEEP READING: How the Video Game Industry Is Fighting Back Against COVID-19
Spider-Man 3's Topher Grace Trolls Fan Asking About Venom Appearance
About The AuthorMatthew Carbonell(108 Articles Published)
Graduated from CUNY Hunter College with a Bachelor's Degree in English Creative Writing. Spent many days self learning and academically learning skills relative to writing fiction, writing non-fiction, writing poetry, photography, film, and media/film editing. Also has experience with web development and is working on a project that acts as an interactive book trailer (linked in "website"). Aspires to be an author of his own work anywhere from articles and essays to novels and poetry. Loves to play video games, writing, making YouTube videos, streaming on Twitch, spending time with family/friends, and playing handball.
More From Matthew Carbonell