In college football's biggest game this weekend, No. 22 Auburn travels to No. 10 Penn State for the first time in program history. The Tigers are coming off of two of the most commanding wins in school history, while Penn State has already beaten then-ranked No. 18 Wisconsin.
And Penn State head coach James Franklin is ready to buy Halls cough drops for his fans.
"I am willing to buy throat lozenges on Sunday for the fan base, it that means we have the most challenging environment in all of sports," Franklin said. "I am willing to buy Halls for everybody that loses their voice on Saturday."
Ahead of Saturday's matchup, coach Franklin met with media from across the country to discuss the game.
"When you talk specifically about Auburn, we are obviously excited about the opportunity," Franklin said. "We got a lot of respect for Auburn University, its history and its traditions. It is a pretty cool place. I have known coach [Bryan] Harsin for a number of years and I have got a lot of respect for what he has been able to do in his career. You are talking about 16 returning starters, a talented club, what you expect when you turn on an SEC football team."
When asked about what players he and his coaching staff have been scouting, Franklin ruffled through the papers in front of him and went down his laundry list.
"Some of the personnel that jumps out to us is the running back Tank Bigsby," Franklin said. "Explosive and fast. Makes a bunch of plays for them. Jarquez Hunter, another running back. Wide receiver Shedrick Jackson and then obviously their quarterback Bo Nix. He does a lot of things well, he's athletic. He can extend plays. He is accurate. I have been impressed with him."
"On defense, you talk about guys we have been impressed with is Owen Pappoe. A young man that we recruited out of high school, he really jumps off the tape and flashes to you. The other linebacker Zakoby McClain and then defensive end Derick Hall and corner Roger McCreary."
Franklin noted he knows most of Auburn's football staff, through his time coaching around the country and in the NFL. Before coming to Penn State, Franklin was the head coach at Vanderbilt for three seasons.
Franklin has been the head coach at Penn State since 2014. In his time in Happy Valley, the Nittany Lions have finished in the top 12 in the CFP rankings in four of the last five seasons. They won the Big Ten Championship in 2016.
Franklin admitted that even with his team's maintained success, he is never satisfied as a coach, especially this year.
"I don't think I will ever be satisfied with where we are at on offense, defense or special teams," Franklin said. "I think we are always striving for more. I think we have shown flashes. We can be more explosive. I think for where we are at in the season, if we continue to get better in every area, I think we will like where we are at. We will have to do that on Saturday… Although we are doing a lot of good things on offense, defense and special teams, there is a lot of room for growth."
In scouting Auburn as a team, Franklin said that Auburn's last two opponents are not exactly the best barometer to judge a team against.
While Penn State opened its season on the road against a ranked team, Auburn opened against Akron, one of the worst teams by overall record in recent years. Franklin said he and his staff may have to use tape from every school Auburn coaches have coached at to get the best idea of the visiting Tigers' game plan.
"The biggest challenge for us, is the way their first two games played out and the type of people they have played," Franklin said. "It makes it challenging on tape to evaluate the tape. With a new head coach and new coordinators, are we watching Boise State film or Vanderbilt film? Are we watching Georgia film, Colorado State film, South Carolina Film? What do you watch to get enough examples of formations, situational football? You just don't have a lot to work with."
One of the biggest traditions in Penn State football is the school's annual white out. This weekend, Penn State has employed the white out strategy for Auburn, attempting to fill the 100,000-plus seat Beaver Stadium with a flood of white-shirted fans. Franklin also anticipates over 300 recruits and their families and guests to be in attendance.
"We are fortunate here to have a 107,000 seat stadium," Franklin said. "Our student section is bigger than most. Our allotment of recruitment tickets is bigger than most, which helps for games like this. This is a game where we have to even turn recruits away."
Franklin said the impact of the white out goes even further than just Saturday.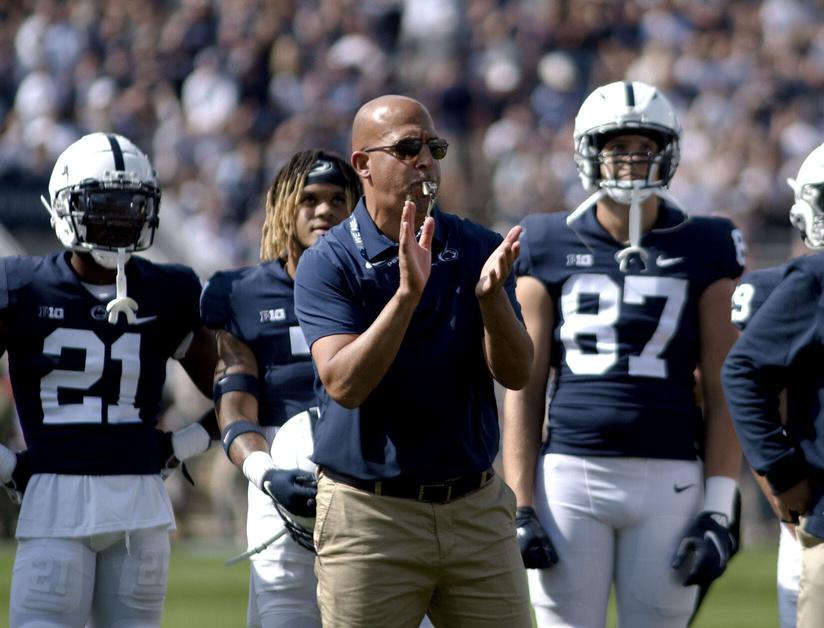 "If you are a sports fan, you need to have a [Penn State] white out on your bucket list," Franklin said. "It is something everybody should experience. For the fans coming for the first time, I hope you enjoy it. This is as good as it gets. The impact and the electricity it provides is special."
In regards to the specific atmosphere he wants on Saturday, Franklin said he needs every seat filled.
"We are going to need this place rocking" Franklin said. "We need each week, when a visiting team comes into the stadium, that the stadium is already packed and rocking during warm-ups. We need that Saturday. We need every seat filled."
When all is said and done, Franklin wants his game Saturday to send a message. Not just to fans of Auburn or Penn State, but to the country.
"I have a lot of respect for Auburn and the SEC," Franklin said. "I want these fans and this staff and these coaches to go back to the SEC and say 'I know we love our football but what they do up there at Penn State is special.' I want them to have that type of experience and that type of impression."