Indie horror game Abandoned has been at the center of a monthslong conspiracy theory that would make Charlie Day's Pepe Silvia meme look tame by comparison. After a series of coincidences and other unfortunate events,many believed Abandoned to be the next "gotcha" from Hideo Kojima, some sort of return to Silent Hills or Metal Gear Solid that followed in the footsteps of his infamous choice to first market Metal Gear Solid V: The Phantom Pain as an unrelated game from a brand new studio.
All the breadcrumbs, hopeful fans believed, would lead to Abandoned's long-teased and delayed Realtime Experience app launching with the big reveal. Finally, we would learn that Kojima's mastery of marketing would tie in with Blue Box's fumbles. But, when the app finally launched with its first piece of anticlimactic content: it was the final nail in the coffin of conspiracy. It brought the reality of Abandoned into sharp relief, and coupled with some recent comments from its director Hasan Kahraman, will hopefully bring an end to these theories that quickly transformed from fun forum posting to enormous and perhaps unfair pressure on a small team.
At the same time, Blue Box did not do itself any favors, making a series of bizarre marketing decisions and messaging that only fed the conspiracy frenzy. As it stands right now, Blue Box has a lot of work to do to give players a reason not to abandon Abandoned.
Wait, what's been happening with Abandoned?
Before going into the culmination of everything, it is important to look back on how the theorizing, teasing, and mixed messaging got out of hand so quickly.
Abandoned was first spotlighted by the PlayStation Blog back in April, with a brief teaser trailer and the promise of a first-person survival horror game with a focus on realism. But the vague descriptions, the mysterious, atmospheric trailer, and Blue Box's relative anonymity prior to the reveal quickly led to players hypothesizing this was all...well, an elaborate Hideo Kojima reveal. Many saw aesthetic similarities between Abandoned and Kojima's beloved PT, theorizing this could mean a return to the Silent Hill franchise that fans have been so rabid for throughout the years. While the theory was certainly a stretch, it wasn't unprecedented: Kojima already pulled a developer switcheroo with the reveal of Metal Gear Solid V: The Phantom Pain, where he infamously debuted the game as a debut project from a new studio.
One element I'd like to address quickly is the belief that Abandoned had to be something more because of the marketing weight PlayStation put behind it. That's not really true. While it was featured in a PlayStation Blog post, the recent discussion of PlayStation's relationship to indies suggested blog posts are not synonymous with a Nintendo Seal of Approval. Devs allegedly may be offered a blog post, or need to ask for one, but there's not some sort of publishing or promotion agreement inherent to them. Dozens of games are highlighted on the PlayStation Blog every month, and they all don't necessarily have massive PlayStation marketing behind them. Given the history of horror games thriving on PlayStation, it's not hard to see why Abandoned would either have been offered or allowed a post. PlayStation has officially otherwise been pretty silent about Abandoned.
Blue Box director Hasan Kahraman immediately shot down the rumors, saying in a statement at the time "We have no association with Hideo Kojima nor do we claim to have any association nor was it our intention to claim such a statement. We are a small group of developers working on a passionate title we wanted to work on for a long time."
Looking back on that cryptic, unfocused reveal, Kahraman told IGN it was a "big mistake" that resulted from the studio's inexperience in marketing, not an attempt to incite the conspiracies that would soon unfold.
I have to admit that was a big mistake, but it was completely unintentional. [...] We're small and this is the first time we actually got the world stage," he said. "We don't have experience with marketing and PR at all. Excuse my language, but it's really easy to f**k up."
But despite such definitive wording initially, speculation didn't stop, and everything came to a head in mid-June, when Blue Box promised a PS5 app at the end of the month would reveal the game's high fidelity and be a one-stop shop for trailers and demos. Strange enough on its own as a marketing outlier, but not something to break out the corkboard for. Shortly after, though, the studio tweeted, "Guess the name: Abandoned = (First letter S, Last letter L). Reveal closing in…" and the theories exploded from there.
Many believed the now-deleted tweet must obviously be referring to Silent Hill, which people have been saying is what Abandoned is all this time, right? And, sure, Kojima kept up his ruse with Moby Dick Studios for a little while on The Phantom Pain, so Blue Box must be the same situation, right? And if it wasn't a reference to Silent Hill, then what the hell was Blue Box doing encouraging the madness?
Well, Blue Box issued another denial afterward, but interested players could not be stopped, with many using the r/BlueBoxConspiracy subreddit as a meeting ground to bring together all the clues. Some, like the S and L tweet, were credible, especially coming from the devs themselves, while others stretched the definition of a "connection." Some redditors latched onto moments like when Kojima tweeted out a photo that happened to contain the words for Silent and Hills amidst all the theorizing, for example.
Hasan even posted a video of himself at the time to prove he was real and that he was not Kojima, hoping to finally put to rest the conspiracies. As many have noted, he looks exhausted in the video; likely a result of having to prove he's a real person, among other things. But the conspiracy train had left the station, and clue gatherers suggested the video was just another part of the whole cover-up, with some even saying Hasan was an actor hired to throw fans off the Kojima trail. Coupled with the first delay of the Realtime Experience app out of June on the day it was supposed to go live, those hoping for some big reveal only had more time to piece together a web of clues.
Blue Box's Bumbling App Launch
As strange as it is to say, this is the point where things started to get really, well, frustrating, primarily because of what Blue Box did next.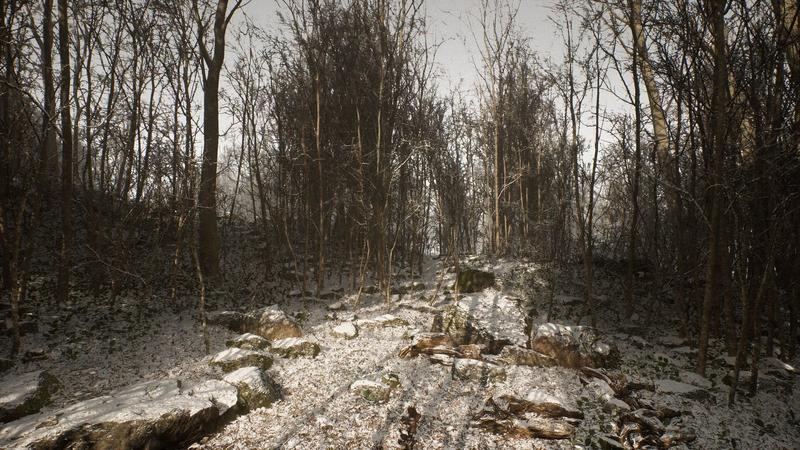 We've now had several denials from Hasan about any involvement from Konami and Kojima. In a perfect world, people should be taken at face value, but given the fervor for a new Silent Hill and past games industry fakeouts like Moby Dick Studios, the intrigue around Abandoned couldn't be quelled. So it was a surprise, then, to see a Blue Box tweet which included a blurry image of a man with an eyepatch behind some other obscured words and the game's title. There are many things Kojima is associated with over his storied career, but few characters are as endemic as the various versions of Metal Gear Solid's Snake, who is often depicted wearing an eye patch.
Of all the things to tweet, this image felt like the most egregious example of an unspoken element of Abandoned's rollout. Rather than working through a PR team, Blue Box, and perhaps Kahraman himself, appears to be handling all of the marketing for the game, which is completely understandable for a small indie studio. But this image, regardless of its intent, was a mistake, which he has at least owned up to.
"The eyepatch," Kahraman said in an interview with NME following the app's launch last week. "The eyepatch. Everyone immediately linked it to Solid Snake. But I was like, 'People think it's Silent Hill so it wouldn't make sense if people linked it with Snake.'"
Of course, it's not hard to see why an audience - at least the portion of it that have labeled themselves "Team Real" on the Blue Box Conspiracy subreddit - would still jump at the image's implication. Sure, Metal Gear Solid and Silent Hill are two distinct franchises, but they're both linked to Kojima, particularly in the tangled web of theories around Abandoned, and it wouldn't necessarily be a stretch to see a creator use elements from one famed creation (Metal Gear Solid) and reference them in another (Silent Hill).
That's of course not the case, and Kahraman even called the move in the interview "a big mistake," (a word we've heard from Kahraman a lot over this saga) but it's a mistake that feels core to what's really going on here. Blue Box doesn't know how to market a game, and is flailing under the pressure of an increased spotlight that includes a vocal contingent online who wanted Abandoned to magically become a different game entirely.
At best, the eyepatch tweet represents yet another flub from an independent developer in over its head, not thinking before posting what, to them, might just be a cool image of the game's villain. At worst, it's knowingly encouraging the theories in an effort to retain attention and egg fans on to wonder if this might really be what they've hoped for, even though it is not.Wherever on that spectrum this tweet, and ultimately Abandoned itself, falls, this was when the reserve of goodwill I had toward the studio began to dwindle, and looking at the sentiment on social media, I was not alone.
The Big Non-Reveal
Of course, the tweet fanned the flames of a rabid userbase wanting something, anything to be revealed about the game, and hopes were high on the August launch of Abandoned's app. Like all steps in this saga, its launch was delayed for vaguely stated technical reasons at the start of last week, until it finally launched on Friday, August 13. And for those who updated their app, hoping to finally get a taste of what Abandoned might deliver, they were met with...the same video as seen in the now ironic and out-of-date "Are you ready" tweet Blue Box posted on August 10. Other than that, the app houses a couple of TBD spots for upcoming trailers and demos, but that's it.
The studio only included an asset that didn't need to be run in a realtime app, which Blue Box had already shown the world, and that was also immediately uploaded to YouTube. Kahraman has since said they launched the app like this because the team knew they just had to deliver something, and that was better than nothing.
"But we needed to do this because people wanted to have a patch, right? That was our first priority – just get the patch out there because we will be adding more content later."
The problem with this sentiment is that all of Blue Box's teasing to date has been leading to this app's launch. First impressions are important, especially when it's the third or fourth first impression you get to make.
The conventional wisdom behind this being a Kojima-developed experience was that he was simply pushing the theater of game reveal to a new level. Surely, with all the connections, each delay was just another clue, another step in drumming up attention for the grand reveal. But the problem with that thinking is, even if this were Kojima, that would mean he lied several times about this not being him, used an actor to drum up sympathy for Hasan's life being damaged by the constant doubts of his existence, and burned multiple moments to show off something cool. That's a far cry from Kojima cheekily hiring an actor to wear bandages obscuring his face for an interview with his good friend Geoff Keighley. Though, admittedly, it's still not great that anyone on that situation lied about Kojima's involvement, too. We wouldn't be here had The Phantom Pain situation not happen in the first place, and so maybe it's a good indicator that rather than try to create an elaborate ruse around a game's reveal… developers simply should just tell the truth about what they're making.
So what are we left with? A finality to the conspiracy theories, surely, but also a confusing set of choices to market a game unrelated to Kojima with Kojima-related imagery and wording, and a team that can't seem to set the record straight no matter how many times it tries. Hell, Kahraman has even been mixed on the game's genre, originally calling Abandoned "a cinematic, first-person horror survival shooter" to now saying "It has some horror elements in it but it's not really a horror game" in the recent NME interview.
We're left with an obfuscated understanding of what Blue Box is aiming to do, and how it aims to dig itself out of the Silent Hill-sized hole it never asked to be in. And unfortunately, the studio's history as a whole is a bit obfuscated as well, with a series of unreleased games or projects, some of which were cancelled in favor of later projects taking off, but all culminating in several years with little released to show for it. Some following Blue Box believe Abandoned to be yet another example of this pattern, calling them a "scam" and suggesting that there may not be a game at all in the works. Kahraman addressed this in his recent interview with IGN.
Kahraman noted that he understands the anger, and thinks people are somewhat justified, but said the labeling as alleged "scammers" has been one of the more difficult aspects of Abandoned's attention.
"I completely agree with why they're raging. I'm not saying that I don't understand them. If I were a gamer and if someone else was doing exactly the same thing, I would be really hyped to see a realtime experience, and if it wasn't coming, I would be disappointed," Kahraman told IGN. "But they're labeling us as scammers – that hurts. I still respect everyone really, and I'm hoping to see them still looking out for Abandoned, [despite] what they say. I do understand and I have nothing against them really. It only hurts." And that hurt, he says, has been significantly impacting the team's quality of life.
"Team members of Blue Box, and also freelancers we work with, they don't feel comfortable to show their faces right now," he said to NME. "It's not fun being labeled as a scammer, right? So, yeah, that's the reason why people don't feel comfortable right now showing their faces or even publicly announcing that they're involved with Abandoned.
"I'm really depressed right now… I can't sleep, I can't eat. The biggest thing that's bugging me is just that people are labeling us as scammers. That is the big thing that really, really hurts me. Because that is not my intention at all, you know?"
Where Abandoned goes from here ultimately requires more transparency from Blue Box. Kahraman's NMEinterview offers some technical explanation for the app's recent delay, more so than any of the company's tweets last week did. It comes days later than it should have, though, and after the odd decision to delete the tweets first explaining the delay, which is certainly easy to read as an attempt to hide any issues the studio faced. And Kahraman spoke to Blue Box's pattern of unreleased games with IGN, chalking up the pattern not to some conspiracy of alleged scams, but to something far more mundane: as such a small studio learning the ropes as it went along, Blue Box would cancel projects before sinking too much cost to negatively impact the studio. He asserts there's nothing nefarious going on with those projects, and that the studio does, in fact, have plans to even release one of those games, The Haunting, as a full, free game.
If we take Kahraman at his word - which if we all had done so when he first asserted he wasn't Kojima, we would likely not even be here - then the truth of Blue Box's Abandoned unveiling and teases has a much more banal conclusion. Blue Box may just be a studio that has terrible marketing instincts, and, with an unexpected spotlight and torrent of conspiracy theories weighing them down, fumbled in calamitous ways.
But no matter the source of its problems, which can be reasonably attributed to a conspiracy gone out of hand and poor decisions on the studio's part, it is facing a singular issue - having to develop a game so many people wanted to be something else entirely. That's unfair to it, but at the same time, Blue Box needs to take better care in how it presents Abandoned going forward. Until there's something concrete, and Kahraman and the team make good on their recently made promises, maybe it's worth abandoning Abandoned, and all the silly hopes imprinted on it, until there's actually a game to play.
Jonathon Dornbush is IGN's Senior Features Editor and host of Podcast Beyond! Talk to him on Twitter @jmdornbush.